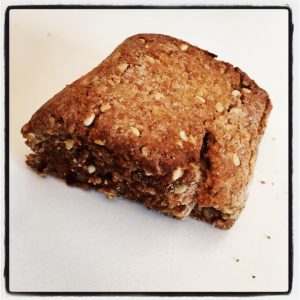 The weekend was a bit of a groggy haze of not feeling very well. Nothing specific – a bit queasy, head aching a bit, generally subpar. I think – and this needs to be worked out in a bit more detail – it was a blood sugar crash issue. I've been fairly carefully eating high protein, with carbs from vegetables and (very) whole grains, for a few weeks now. It's working in terms of weight loss (I have some insulin issues, so high protein seems to work best) but it appears that it's reducing my tolerance for sugar and things that react like sugar in my system (bread, pasta etc). This was a weekend away, and a higher straightforward carb intake than I've had for a while, so … it might be that. Or it might just have been an opportunistic bug that bit.
In food and other news – the photo is of a fig cookie that I made (recipe is at Olympian-Approved Fig Jam Cookies | Real Simple – although I have the book that the recipe comes from, and recommend that too). This is part to try and manage the blood sugar issues, on and off the bike (I had a bad blood sugar dip a few rides ago as well – entirely my own fault. One cannot ride on Coca Cola alone). I wanted to make some sort of fig roll as I like dried figs this way but I'm not all that keen on the commercial types – they're a bit too dry, really. I found some great wholemeal fig rolls in the US but, no surprise, they aren't imported to here. So I hunted around for a recipe …
These are pretty sturdy cookies, so should stand up to back pocket treatment, and the fig, almond, tahini & wholemeal flour mixture should mean reasonable sugar release without spikes of sugar or insulin. I ate a couple yesterday without adverse effect, so let's hope it stays that way (they taste amazing).
The pub ride last night went well – felt a bit like flying, I may be getting better at the nutrition (and a stone off helps on hills, natch). More night riding practice is useful too.