Audax and a rail strike, not entirely optimal. I'd signed up to do the Herts Greenways 100k – a distinctly low-stress audax, intended for pootling through back lanes and greenways (the clue is in the name), long enough ago that (a) my gravel bike had not yet acquired it's J-shaped derailleur cage (replacement due Any Day Now. I hope) and (b) the rail strike summer of 2023 had not started/been announced.
I had intended to ride the gravel bike – it's ideal for this terrain. That was out of the question with the cage in the condition it's in right now; I need the three gears that the cage cannot now reach, or my knee will be distinctly unhappy on anything that isn't pretty much flat. The road bike is a nope; it can't take tyres wider than 25mm and, although it was ok on one of the greenways a week or so back, we've had rain since then and I really don't dare ride sketchy terrain on skinny tyres. If I fall on my left knee one more time (and any bike fall is always to the left, for me) there's a fair possibility that I won't walk away from it, or indeed walk for some considerable time afterwards.
So, that left the mountain bike. Which is a lovely bike but as aero as a brick and accordingly slow, and exhausting. To be fair, it's not really intended for trying to ride at any sort of speed and I have no real experience of riding it longer distances – I tend to do 25-30 km rides on trails/tracks around this area. As there was a fair possibility that I simply wouldn't finish the ride on this bike, I didn't want to drive to the start so that I could bail without having to beg a lift from family back to the start to retrieve my car – and playing into all of this was the fact that the audax route passes about 50m from home …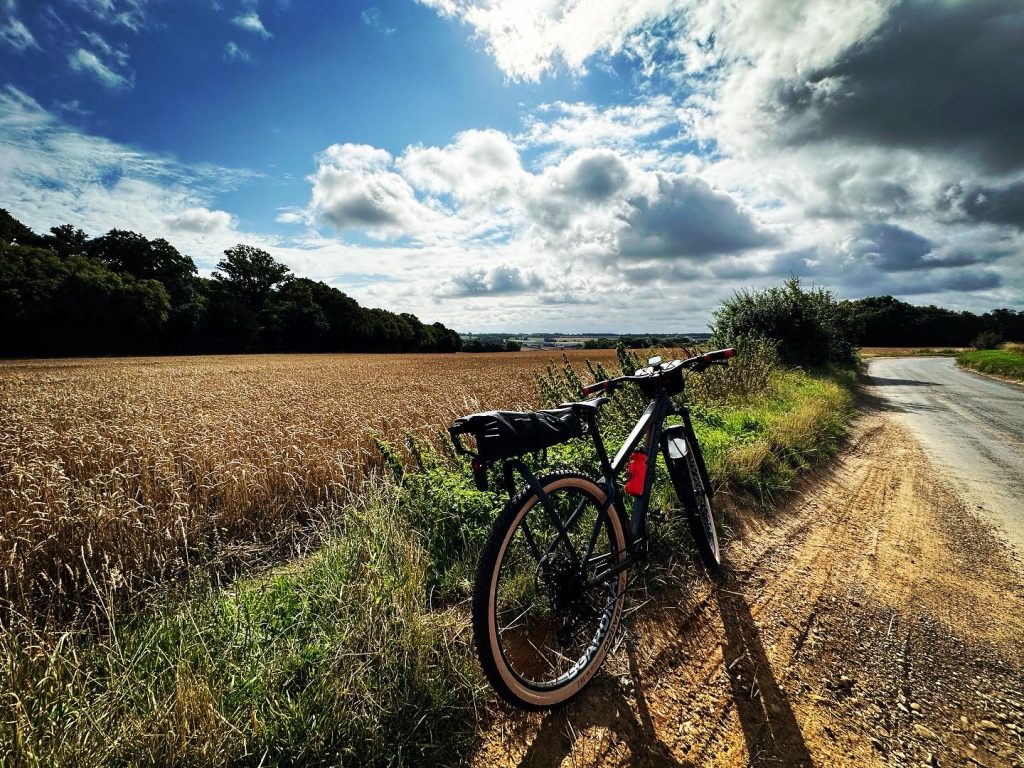 Anyway – the first train of the day would get to the start (well, 1 mile from the start) just about in time, and there were trains later if I did manage to get around. There were also trains at various bail out options. So, I went.
10km from home to the station (first train of the day on that line; first train of the day on my usual line to London would have got me there too late. Or so I thought). The noticeboards say "delayed" and a check online notes that the train is delayed because the train crew have been delayed. Possibly they commute to work by train? So I waited and eventually the noticeboards tick over to "on time", so I got a ticket and got to the platform. The app says the train will start a couple of stations down the line, rather than in London, which is presumably how they plan to make up time.
Platform conversation is about the NHS, with a man who'd been knocked off his motorbike a year or so back – urgent care was fab, follow-up physio keeps being postponed.
The train is "delayed" again. Sigh. At this point I text the organiser to say I'm going to miss the start and to mark me as DNS. I've decided to get to the start (trains permitting) and cut the ride short when I pass home, as the train situation is unlikely to improve during the day and I don't want to get stuck.
A train! It did eventually appear, on a different platform (with some warning, thank you Thameslink), and I got to the start about half an hour late – the organiser was still there (thank you, Phil!) so I checked in but didn't take a brevet card. Headed out into the bike paths of Stevenage. It's oddly like a parallel world of underpasses and paths that aren't really visible from the motor roads but which are very definitely useful, and also mean that the area is very open – the effect is that of wide, wide, roads.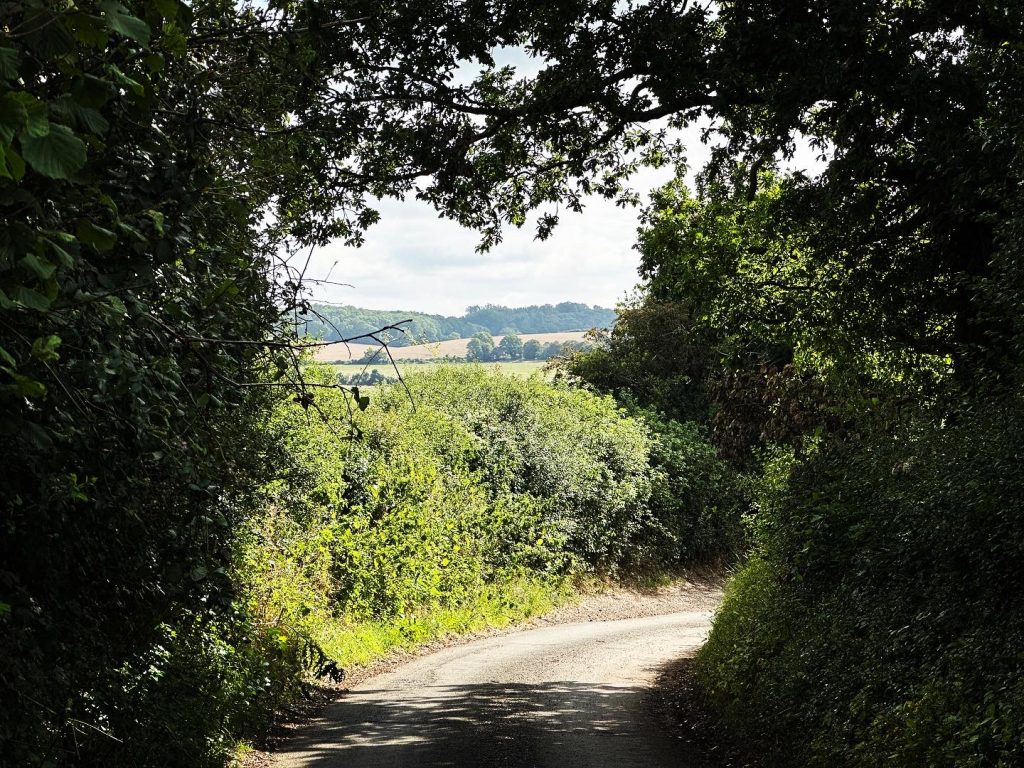 Into the back country of north Hertfordshire, and it's a rather nice (cloudy) day, with almost no traffic. Absolutely no traffic in some parts as a couple of major roads are closed to motor traffic for works, leaving the non-motorised (me) to enjoy the tarmac untroubled by motors. Fields in varying shades of mostly dry, and then eventually onto the Cole Green Way – one of several local ex-rail lines now in use as foot/cycle/horse paths.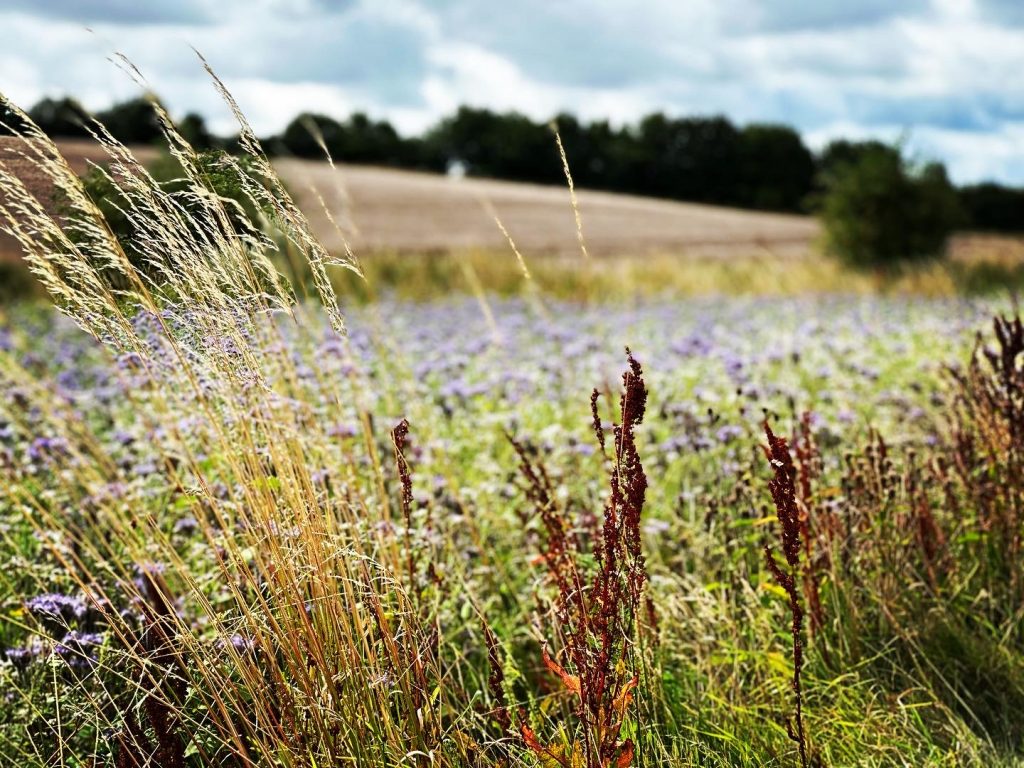 Via Hertford, Welwyn and onto to home. Where I stopped, with some gratitude. I worked out about 33km into this 52km ride that my saddle had a 30km limit for me … having not really ridden further than that before now on this bike/saddle, this hadn't been something I was really aware of. What might have given me a bit of a clue was that this saddle didn't really suit me on the turbo either, although neither does a Brooks Cambium (C17 carved) which is otherwise good for 400k (and possible more, I just haven't ridden further in one day) for me. I'd put the saddle on the MTB as being better than the stock saddle (which hurt after 10km). It's not the distance – as per the previous post, I've done 100km without an issue recently. Obviously it was something of a false economy … so, new saddle ordered once I'd found somewhere with them on sale.
Also ordered are new grips – the other issue was increasing hand discomfort and numbness. Yes, at the same time. I've had that issue before, and hadn't really thought about it when deciding to take the MTB for this ride. I've ordered Ergon GS1 Evo grips, which have an extended palm area – the not-entirely-flat-but-definitely-not-dropped bars I use on the MTB need a bit more space for me to rest my palms on. I'm fine on drop bars but have difficulties with the hand position on flat bars.
It's a glorious route, and I plan to do it (the full 100k) as a permanent as soon as the gravel bike is fixed – that way I can start from home, rather than have to resist the lure of stopping as I ride past. It also means I can get the somewhat busy sections of the local greenway done before the pedestrians come out in force with children and dogs running everywhere (as they are perfectly entitled to do; it just makes it a bit nerve-wracking as they sometimes run out of the greenery on each side with little or no warning! I ride those sections unclipped and with a wary eye on the greenery, looking for it moving more than it should in the breeze).