I have, in fact, been riding. One of the reasons this blog has been quiet is precisely that: I've been on my bike, not on my computer.
The riding has been mostly long stuff, interspersed with gym sessions and pub rides and turbo when nothing else is feasible. Long stuff = 200k audaxes, the club annual century ride, that sort of thing.
This weekend, the "long stuff" went a bit further – I resolved about three months ago to tackle London to Paris in under 24 hours. It's one of those somewhat iconic rides that gets mentioned as a must do. So, I must did. Obviously.
I wasn't all that interested in an organised ride; it's not that complicated. So I checked my diary, figured out my first free three-day weekend was this past weekend and booked ferry/hotel/Eurostar accordingly, and M booked his return trip as he was running the end-of-ride support: a change of clothes for me, so that I didn't have to carry those. I also put it out to cycling friends, in case anyone wanted to come along – a certain amount of interest, no actual commitments until two weeks ago when I acquired a ride buddy! I was fully prepared to go ride alone, but company is always nice and this company was particularly good fun!
A bit of route-planning later, and we had a workable route (or so we thought …). 57 miles to Newhaven, straight out of London on the A23 and then wriggling off onto the London-Brighton classic route to Turners' Hill (wherein there is a useful pub for restocking with water/carbs/salt at about 33 miles) then more wriggling past Lewes down to Newhaven. On the French side, the Avenue Verte track until it ran out at Forges-les-Eax and then following a fairly straight line to Paris, for a total of about 108 miles. So 165 miles total cycling: it's not actually that far.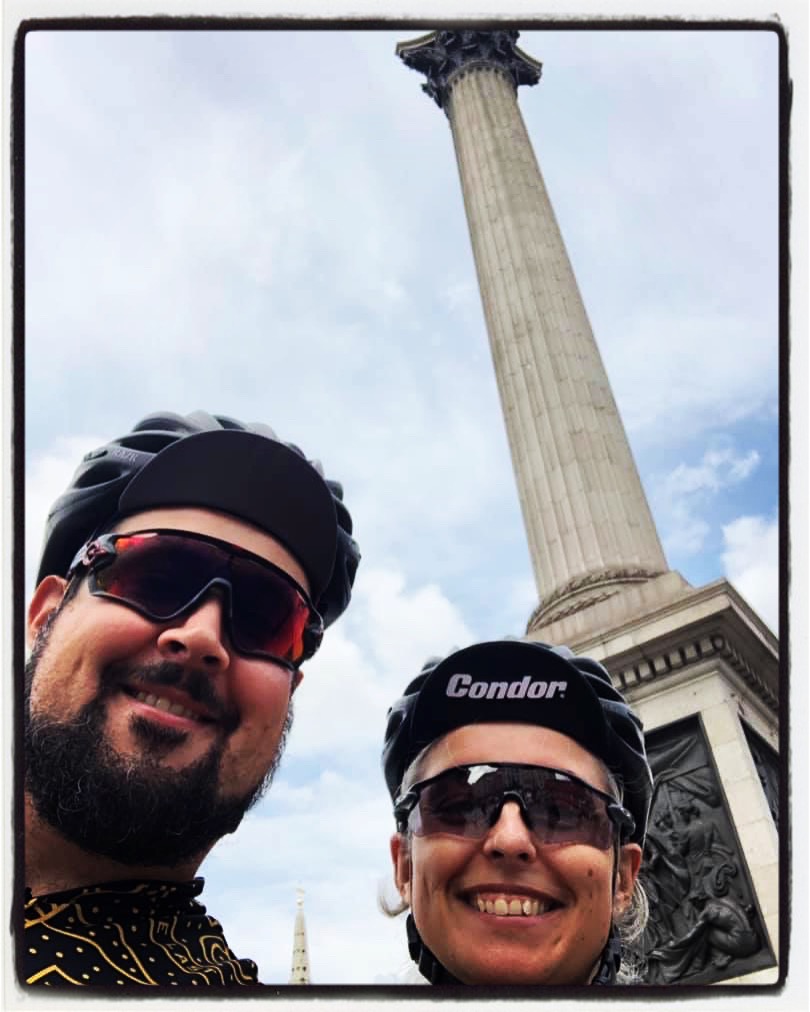 We left London (Trafalgar Square) at 4pm; the time dictated somewhat by the 11pm ferry crossing from Newhaven to Dieppe – wanting to be sure we got there in time, with an allowance for Things Going Wrong, and still having enough time to get from Dieppe to Paris on the other side within the 24 hours.
The run down to Newhaven was smooth – one pinch puncture, mine, swiftly mended (new Conti GP5000s – the first tyres I have ever been able to put onto a wheel using my thumbs and no levers. They roll nicely too; just maybe not a good plan to thump them all over the inadequately surfaced roads of East Sussex).
We arrived at 9pm – somewhat ahead of schedule. We'd gone about 1.5mph faster than I had assumed we could, although the London section lived up to the assumption of a 10mph average to escape the capital.
Check-in was straightforward, then we waited to board – along with quite a lot of other cyclists. You see, when I had worked out that this was the first three-day-weekend I had, I had somewhat failed to realise that there was a cycling event in Paris on the Sunday. Embarrassingly, the Tour was actually underway before I put two and two together. If I'd realised, I would have booked a later Eurostar back and actually watched some of it live!
Anyway, so, quite a few cyclists heading for Paris – and a few more just planning to putter around the French countryside.
Eventually onto the ferry, bikes stowed. There are bike racks on the ferry, on the car deck, where you just park your bike – and take anything you need access to with you. As with cars, you can't get back to the bike during the crossing.
Next, seats found, hop-based recovery drinks acquired. First lesson: there are cabins available on the ferry. Book one. We didn't (I hadn't even registered that it was an option, being to used to the short Dover-Calais-type ferries). The chairs are ok, but not all that conducive to a few hours sleep. We managed, but it could have been a lot more comfortable.
On-board meals were ok, nothing marvellous, but not hideous either.
Eventually, it was 5am and we nosed into Dieppe. Cyclists were let out first – a quick wave of passports later we were heading off. Second lesson: start the GPS as soon as possible because it takes a while to work out where it is. Third lesson: do not follow the sign outside Dieppe harbour saying "Toutes direccions" whilst waiting for the GPS to kick in because that leads to a motorway. Fortunately we figured this out a metre or so from the roundabout (the motorway sign was a bit of a giveaway). The GPS eventually woke up, realising that the nearby white cliffs were not Dover, and we headed off into the quiet early morning through Dieppe and out into the northern French countryside.
About 5-10km or so from Dieppe we joined the 'Avenue Verte' which, in this part of the world, is an ex-railway line that runs (and rises) for about 50km to Forges-Les-Eax. It's quiet (early on a Saturday morning, that may not be surprising) and involves no cars. There are quite a few road crossings to check but, again, early Saturday morning meant we saw about three cars in 50km.
It was raining, by the way. It had been dry down to Newhaven but the rain started as the ferry left port, and continued until somewhere around 11am en route.
This has a rather pretty side-effect – rain arcing off the bicycle tyre into a headlight beam looks a never-ending Roman candle firework.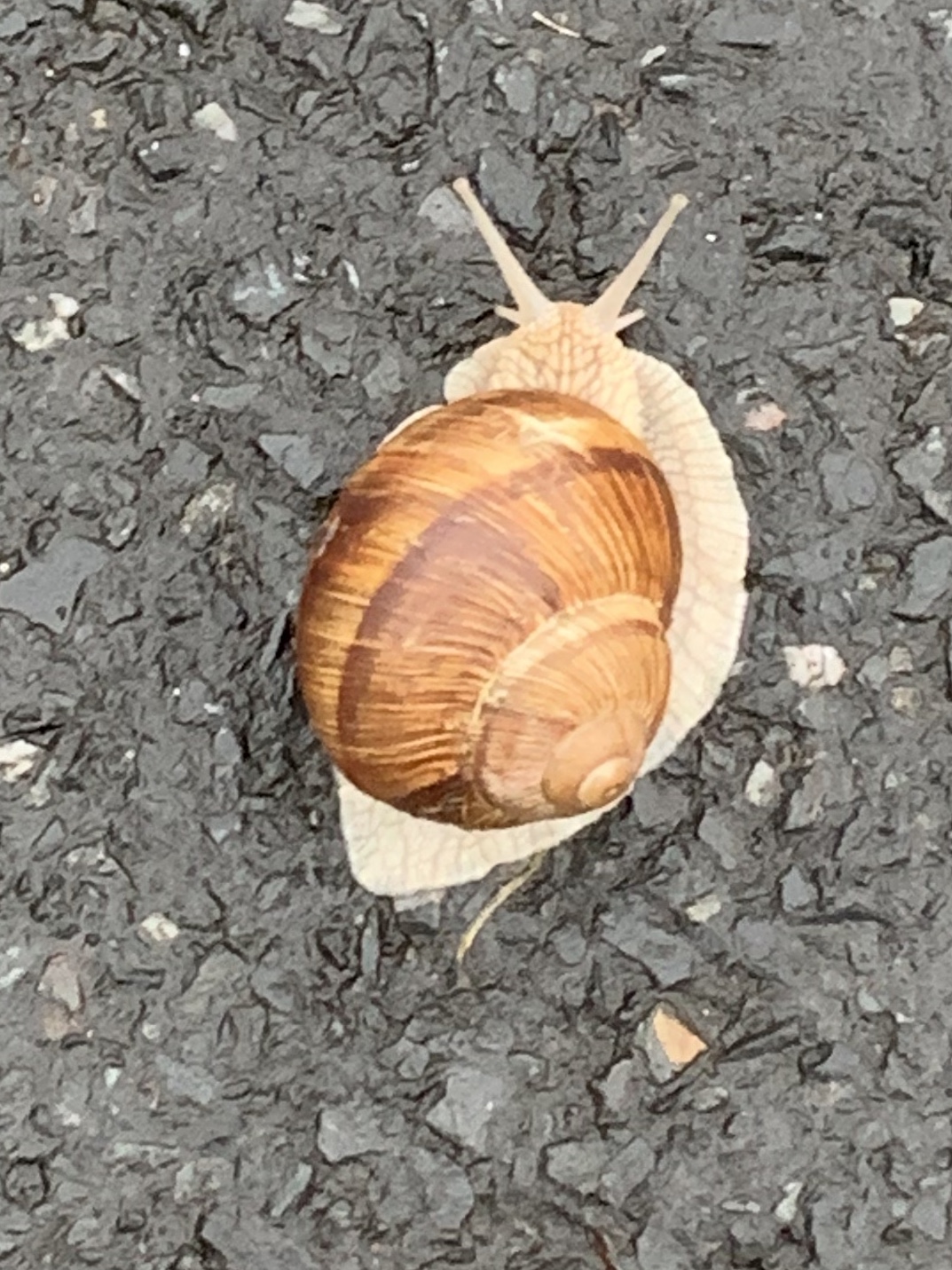 There were also a lot of very large snails; we weaved on the tarmac somewhat as they would have made a spectacular mess if we'd hit one.
At one point I thought the sun was breaking through clouds as it rose, shining rose-dawn-gold onto some farm buildings. Then I realised it was an industrial strength spotlight, presumably allowing the farmer to get a head start on the day.
We went on, and the sun rose behind the clouds.
I want to head back to this section one day soon with a camera; there were many, many places that I wanted to stop and photograph – a centuries-old timber water mill, amongst others.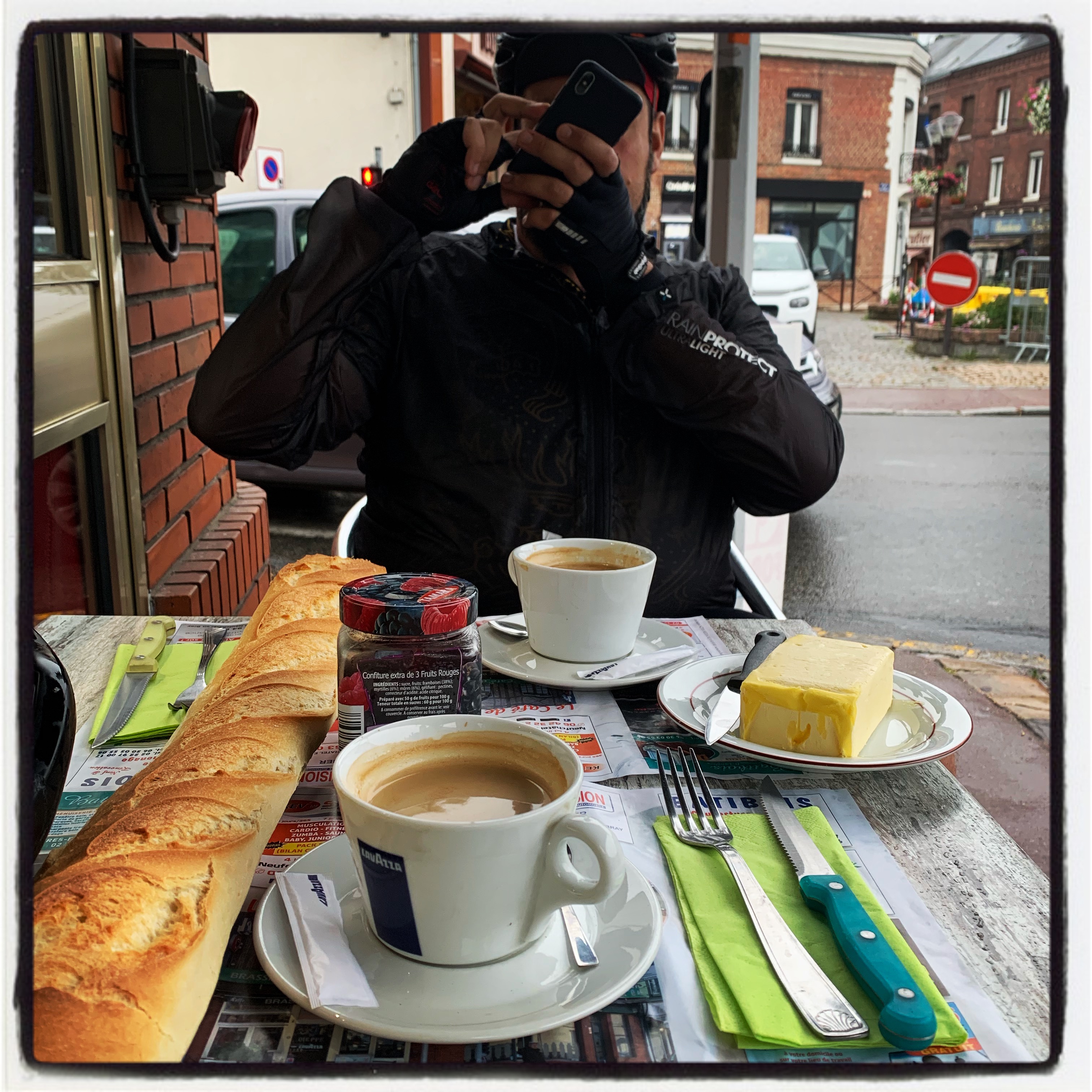 Next lesson: French cafés do not open early. We had run out of Avenue Verte rail track before we found an open café, in Forges-les-Eax. The café/tabac had a highly enlightened attitude to providing us with du pain and du beurre for breakfast: a visit to the next door bakery saw an entire baguette put on our table, and a block of butter was unwrapped and put onto a plate. Generous and fabulous – and the coffee was good.
Onward, route following – more small villages, then onto a faster stretch of road, then more villages.
Eventually, we started to look for lunch. Lesson the next (I've lost track of numbers) – carry cash. The internet was down in the part of France we were passing through (how does that even happen?!) and no-one was taking cards. My 5€ note ran to some coffee and nothing else.
This minor hiccup was followed by a slightly larger one: route fail. Despite careful planning, checking against other people's routes, checking Strava heat map and so on, we came to a roundabout where the route exit lead onto a no-entry "sauf vehicules agricoles". We were not farm vehicles and the road surface looked like we would seriously regret pretending to be farm vehicles.
So we started orienteering our way to Paris. This had a rapid pay-off in the discovery that the next village had a cashpoint which was clearly not dependent on the same internet access as the parts earlier so cash and lunch were acquired (bread with lardons and roquefort, plus Coca Cola) and then onwards.
We basically orienteered our way from there on, for about 35 miles into Paris – Google Maps isn't reliable (it's too inclined to think bikes can tackle any terrain, even newly-plowed fields. You can't set it for cars because it wants you to take a motorway). Anyway – we set course south-south-west and carried on. I think we crossed the Seine about four times; went through a rather large park/wilderness; re-found the Avenue Verte (which is supposed in fact to link Paris to London for cyclists but, in practice, disappears from signs with regularity); and inched our way in. We found ourselves eventually in La Défence, which is currently mostly roadworks – and roadworks with a distressing tendency to cut up/cut off the cycle path with no alternative route. We hitched ourselves and our bikes over a couple of fences to continue with the route – cyclocross, Parisien style?
Then, abruptly, familiar landmarks – we were heading for the Arc de Triomphe, and reached it via the cobbles. That roundabout does not get any less scary with repetition. It's bad enough in a car, protected by metal. It's downright terrifying on a bike as cars hurtle onto the roundabout with no obvious signs that they care about the fact that there is a cyclist in the way.
A few more cobbles on the Champs Elysées, where the flags were flying for the next day's Tour arrivée.
Another crossing of the Seine but this time with the tangle of metalwork that is the Eiffel Tower in view.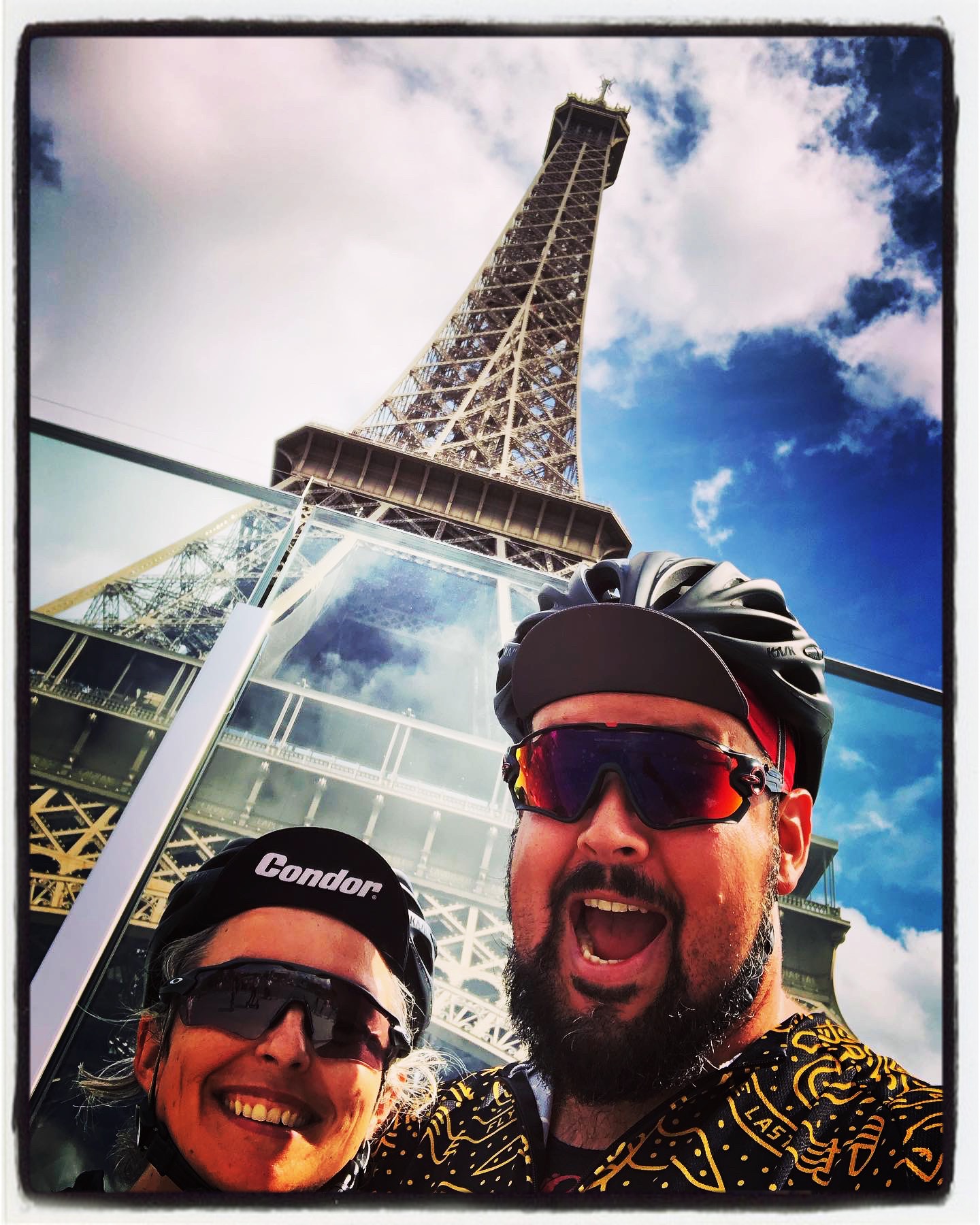 We got there: 22.5 hours after leaving London. 12h 40m riding time.
Showers, frozen margaritas, food, sleep. Then home via Eurostar.
Eurostar and bikes: Eurostar have got over their brief antipathy towards bicycles, thankfully. You have to book the bike space in advance but it's not outrageous. They will take the bike unboxed (or you can pay to put it in a box) but you have to take all luggage, lights, cuddly toys etc off the bike.
You can leave the bike at Gare du Nord the day/night before your train if you choose – this is actually not a bad plan, as it's easy enough to go on from there to dinner (see frozen margaritas, above) and it saves time/palaver the next morning. It also means you don't need to carry a heavy duty lock with you to secure the bike on the street at any point.
At Gare du Nord, the bike has to be taken to the "registered luggage" department – aaaalllll the way down past the Eurostar platforms, out of the station, across past some outbuildings and eventually you'll find the office – where they are very friendly and will tag up your bike for the relevant train and then off you go (again, see frozen margaritas above).
At St Pancras, collect the bike from the Eurodespatch/luggage counter – head through the station away from Euston Road, past Boots/WHSmith/Yo Sushi/the Left Luggage company and out into the coach park. The office is on the right hand side; they will retrieve your bike – mine was there already, having come off the train in the same time it takes to walk through the station. They had free Eurostar 750ml bike water bottles, which was handy as I'd lost the top of one of mine on the way south (still drinkable from, just had no cap to cover the spout).
Overall: it's a lovely ride but plan your route carefully. It's an iconic "challenge" (London to Paris in under 24 hours is often put up as a cyclist challenge). It's not actually that much of a challenge if you can do century rides easily enough – it's undoubtedly a major challenge to novice/occasional riders, though.
We're going to give it another go next summer because it's basically a good ride, rather fun, and easily accessible.